Sales Agreement
The breeder (GoldenPride Kennels) agrees to sell a purebred Golden Retriever puppy to approved homes only. Puppies are registered with the Canadian Kennel Club on a non-breeding contract. Papers will be transferred into purchases's name at earliest possible time, however paperwork delays by the CKC can take up to 6 months. Puppies will carry the GoldenPride name at the begining of the puppy's name.
Buyers must agree to provide their puppy with proper care, food, housing, and property restraints at all times. Yearly veterinary care, vaccinations and deworming are essential to the health and well being of your puppy. If this puppy is mistreated in any way, GoldenPride has the right to reclaim the puppy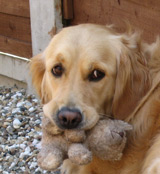 CAUTION!!

Backyard breeders or Puppy Mill puppies have become popular due to lower price tags, however, we must remember, bargain puppies come with a hidden higher price . These puppies are not properly screened for breed related serious health problems and life threatening disorders such as Hip Dysplasia, Eye diseases causing early blindness, Congenital Cardiac defects and temperment problems due to lack of socialization and temperment screening.. Responsible breeders research and screen both parents for inheritable problems BEFORE breeding, and therefore can offer potential owners with written health guarantees. GOLDENPRIDE puppies are bred through careful planning, and from healthy sound parents with Hip, Elbow, Eye and Cardiac screening with the OFA/OVC. Eyes are screened through the Canine Eye Registration Foundation by a veterinary Opthalmologist.

Remember, you are adding a 10-15 year lifetime companion into your family...Look for a well bred puppy!